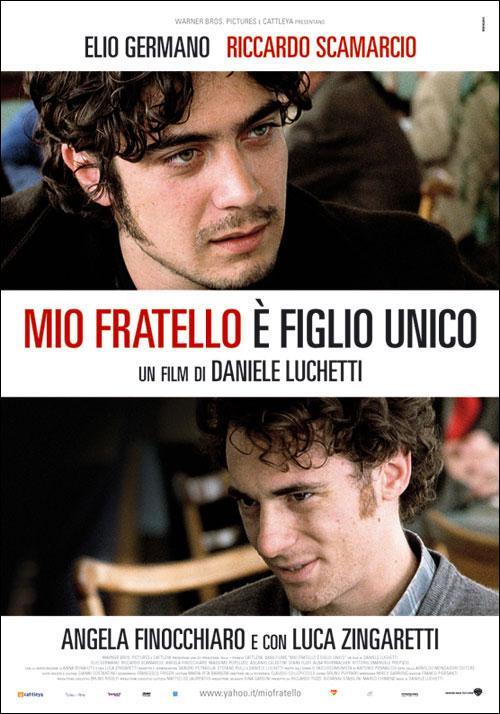 ITALIANO
Mio fratello è figlio unico
Accio è la disperazione dei suoi genitori, scontroso e attaccabrighe, un istintivo col cuore in gola che vive ogni battaglia come una guerra. Suo fratello Manrico è bello, carismatico, amato da tutti ma altrettanto pericoloso... Nella provincia italiana degli anni '60 e '70, i due giovani corrono su opposti fronti politici, amano la stessa donna e attraversano, in un confronto senza fine, una stagione fatta di fughe, di ritorni, di botte e di grandi passioni. E' un racconto di formazione dove sfilano quindici anni di storia d'Italia attraverso le avventure di Accio e Manrico, due fratelli diversi ma non troppo.
FRANÇAIS
Mon frère est fils unique
Accio, La Teigne, crée le désespoir de ses parents. Il est farouche, polémique, bagarreur et a les nerfs à fleur de peau. Il agit par instinct, vivant chaque bataille comme une guerre. Son frère Manrico est beau, charismatique, aimé de tous, mais tout aussi dangereux...
Dans la province italienne des années 60 et 70, les deux jeunes hommes se battent sur deux fronts politiques opposés, ils aiment la même femme, Francesca, et traversent, dans une confrontation sans fin, une période de leur vie faite de fugues, de retours, d'échanges de coups et de grandes passions.
C'est l'histoire de leur parcours pendant 15 ans d'une histoire italienne.
ENGLISH
My Brother Is an Only Child
Growing up in small-town Italy during the '60s and '70s, brothers Accio (Elio Germano) and Manrico (Riccardo Scamarcio) embody and celebrate opposing political stances, but share an impassioned love of the same woman that threatens to drive them to blows. Director Daniele Luchetti's political comedy Mio Fratello È Figlio Unico (aka My Brother Is an Only Child, 2007) observes the brothers over the course of 15 years, against the ever-shifting backdrop of tumultuous Italian sociopolitical history.
During that time span, the siblings' loyalties will fluctuate; they will endure arguments and quarrels, and find themselves separated by the ravages of time and circumstance and reunited magnetically by the wisdom of age. In time, they will come to a firmer and clearer understanding of not only the differences but the similarities that they harbor.
PORTUGUÊS
Meu irmão é filho único
Durante as décadas de 60 e 70, os irmãos Accio (Elio Germano) e Manrico (Riccardo Scamarcio) crescem defendendo ideais diferentes. Manrico, o mais velho, é comunista, enquanto o mais jovem acaba se envolvendo com o ideal fascista. Se já não bastassem as discussões acaloradas provocadas por causa dessa diferença, os dois se apaixonam pela mesma mulher: Francesca (Diane Fleri), uma jovem filha de burgueses.
ESPAÑOL
Mi hermano es hijo único
Título original
Mio fratello è figlio unico
Año
2007
Duración
100 min.
País
Italia
Dirección
Daniele Luchetti
Guion
Daniele Luchetti, Sandro Petraglia, Stefano Rulli (Novela: Antonio Pennacchi)
Música
Franco Piersanti
Fotografía
Claudio Collepiccolo
Reparto
Elio Germano, Riccardo Scamarcio, Angela Finocchiaro, Luca Zingaretti, Anna Bonaiuto, Massimo Popolizio, Ascanio Celestini, Diane Fleri, Alba Rohrwacher, Vittorio Emanuele Propizio, Claudio Botosso, Antonino Bruschetta
Productora
Cattleya / Babe Film
Género
Comedia. Drama | Años 60. Política. Familia
Sinopsis
En 1961, Italia vive una revolución social y económica que no parece afectar a Accio, un adolescente rebelde y problemático que vive en Sabaudia, una pequeña ciudad del Lacio. Sólo por irritar a sus padres, Accio se une a un partido neofascista. Mientras tanto, Manrico, su hermano mayor, es el líder local de la izquierda. La actitud política de Accio avergüenza tanto a Manrico que deja de hablarle a su hermano. La única vía de comunicación entre ellos es Francesca, la novia de Manrico, de la que Accio se enamora perdidamente. Las diferencias y enfrentamientos entre ambos hermanos son el reflejo de una sociedad dividida entre dos formas de entender la política. (FILMAFFINITY)
---------- Above subtitles are NOT syncronized for film in french -------------------------