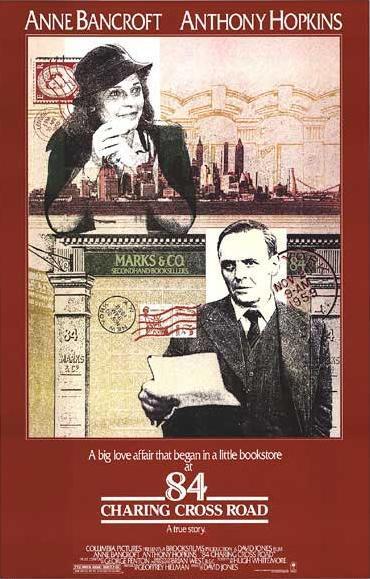 ENGLISH
When a humorous script-reader in her New York apartment sees an ad in the Saturday Review of Literature for a bookstore in London that does mail order, she begins a very special correspondence and friendship with Frank Doel, the bookseller who works at Marks & Co., 84 Charing Cross Road.
FRANÇAIS
Une femme, passionnée de littérature, remarque l'adresse d'un libraire londonien, qui peut lui envoyer des livres tant désirés. Une grande amitié va naître entre eux deux, à travers la correspondance qu'ils s'échangent.
ITALIANO
È la storia di un amore platonico fra due personaggi di mezza età, destinati a non incontrarsi mai. La donna, una scrittrice americana, Helene Hauff (autrice del libro da cui è stato tratto il film), entra in contatto epistolare con il direttore di una libreria londinese, Frank, che le fornisce periodicamente vecchie edizioni di classici inglesi. La loro corrispondenza diviene molto fitta, quasi amorosa. Ma passeranno vent'anni prima che lei riesca a varcare l'oceano. È troppo tardi però. Frank muore pochi giorni prima del suo arrivo.
PORTUGUÊS
Nunca Te Vi, Sempre Te Amei
(Brasil)
A Rua do Adeus
(Portugal)
Durante vinte anos Helene Hanff (Anne Bancroft), uma escritora americana, se corresponde com Frank Doel (Anthony Hopkins), o gerente de uma livraria especializada em edições raras e esgotadas. Tudo começou pelo fato de Helene adorar livros raros, que não se encontram em Nova York. Só que ela não poderia imaginar que uma carta para uma pequena livraria em Londres, que negocia livros de segunda mão, a levaria a iniciar um correspondência afetuosa com Frank. Neste período uma amizade muito especial surge entre os dois.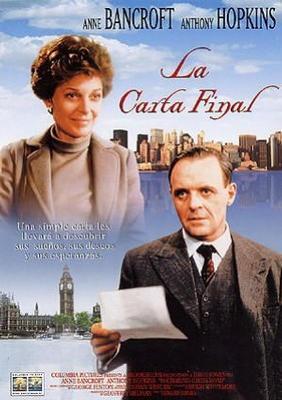 ESPAÑOL
La carta final
(España)
Nunca te vi, siempre te amé
(Latinoamérica)
Título original
84 Charing Cross Road
Año
1987
Duración
99 min.
País
Reino Unido
Dirección
David Hugh Jones
Guion
Hugh Whitemore (Libro: Helene Hanff)
Música
George Fenton
Fotografía
Brian West
Reparto
Anne Bancroft, Anthony Hopkins, Judi Dench, Jean De Baer, Maurice Denham, Eleanor David, Mercedes Ruehl, Daniel Gerroll
Productora
Coproducción GB-USA; Brooksfilms Ltd. / Columbia Pictures
Género
Romance. Drama | Drama romántico. Literatura
Sinopsis
Helen Hanff, una combativa escritora neoyorquina, envía una carta a una pequeña librería de Londres pidiendo varios clásicos de la literatura inglesa difíciles de encontrar. Frank Doel, el reservado librero inglés, contesta a su petición. Comienza así una conmovedora correspondencia entre dos continentes, que durará durante veinte años. (FILMAFFINITY)
Link
SPANISH Comentar es dar gracias
ENGLISH Commenting is to give thanks
FRENCH Commenter est de rendre grâce
ITALIAN Commentare è ringraziare
PORTUGUESE Comentar é dar graças
GERMAN Kommentieren heißt Danke sagen
DUTCH Commentaar geven is bedanken
GREEK σχολιάζοντας είναι να ευχαριστήσω
ROMANIAN Comentarea este de a mulțumi
RUSSIAN комментирование - дать спасибо
TURKISH Yorum yapmak teşekkür etmektir