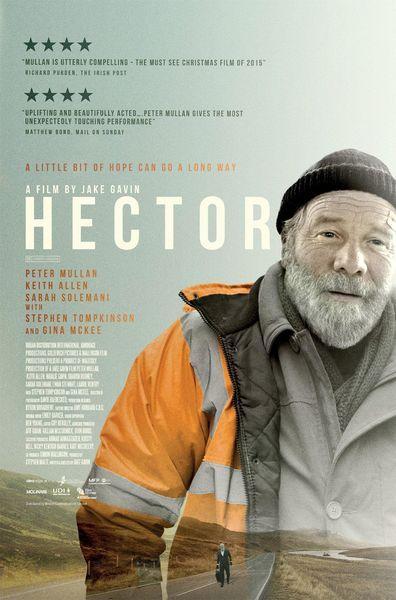 ENGLISH
The heartwarming story and powerful portrait of Hector - an enigmatic man in contemporary Britain. Living around the motorways with transient friends for years, we follow their annual pilgrimage from Scotland to a London shelter and the warmth of a temporary Christmas family. But Hectors' clock is ticking and he attempts to reconnect with his real family after 15 years away. Peter Mullan's masterful, uplifting performance reveals a mere twist of fate is the only difference between you, me and a man like Hec. A portrait of an invisible man and an authentic account of homelessness within contemporary Britain, HECTOR is once a powerful character study and an insight into the lives on those on the margins.
Hector: Life as a homeless person
ITALIANO
Una storia toccante e un potente ritratto di Hector - un uomo misterioso nella Gran Bretagna contemporanea. Vivendo in mezzo alla strada con amici di passaggio da anni, seguiamo il loro pellegrinaggio annuale dalla Scozia verso un rifugio temporaneo di Londra e il calore temporaneo di un Natale in famiglia. Ma l'orologio di Hector gira e cerca di ristabilire i contatti con la sua vera famiglia dopo 15 anni di assenza. La prestazione magistrale e stimolante di Peter Mullan rivela che l'unica differenza tra voi, me e un uomo come Hector si trova in un semplice scherzo del destino. Ritratto di un uomo invisibile e autentica storia dei senza tetto, Hector è un potente studio di carattere e uno scorcio di vita delle persone ai margini della società.
Hector, vita da homeless
ESPAÑOL
Un retrato profundo y conmovedor de Hector, un hombre enigmático en la Gran Bretaña contemporánea. Habiendo vivido alrededor de las autopistas con amigos pasajeros durante años, seguimos su peregrinaje anual desde Escocia a un refugio de Londres y a la calidez de una familia temporal para Navidad. Pero el tiempo está pasando para Hector e intenta reconectarse con su verdadera familia después de 15 años de ausencia. La actuación magistral e inspiradora de Peter Mullan revela que un mero giro del destino es la única diferencia entre tú, yo y un hombre como Hec. El retrato de un hombre invisible y una descripción auténtica de la vida de quienes no tienen hogar en la Gran Bretaña contemporánea, Hector es a la vez un profundo estudio de carácter y una oportunidad de comprender mejor la vida de quienes se encuentran al márgen.
Hector: la vida de un sintecho
Título original
Hector
Año
2015
Duración
98 min.
País
Reino Unido
Dirección
Jake Gavin
Guion
Jake Gavin
Música
Emily Barker
Fotografía
David Raedeker
Reparto
Peter Mullan, Keith Allen, Natalie Gavin, Sharon Rooney, Sarah Solemani, Ewan Stewart, Laurie Ventry, Stephen Tompkinson, Gina McKee
Productora
A Product of Malitsky / Aimimage Productions / Goldfinch Pictures / Mallinson Film Productions
Género
Drama
Sinopsis
Como todos los años, Hector McAdam emprende un viaje desde Escocia hasta un acogedor albergue de Londres donde le esperan sus camaradas, la alegría de las fiestas navideñas y una cena en la que le servirán el tradicional pavo. Consciente, sin embargo, de que este podría ser su último periplo, Hector escoge una ruta que no ha hecho en mucho tiempo para restablecer la conexión con su pasado y reunirse con las personas que dejó atrás. (FILMAFFINITY)
SPANISH Comentar es dar gracias
ENGLISH Commenting is to give thanks
FRENCH Commenter est de rendre grâce
ITALIAN Commentare è ringraziare
PORTUGUESE Comentar é dar graças
GERMAN Kommentieren heißt Danke sagen
DUTCH Commentaar geven is bedanken
GREEK σχολιάζοντας είναι να ευχαριστήσω
ROMANIAN Comentarea este de a mulțumi
RUSSIAN комментирование - дать спасибо
TURKISH Yorum yapmak teşekkür etmektir