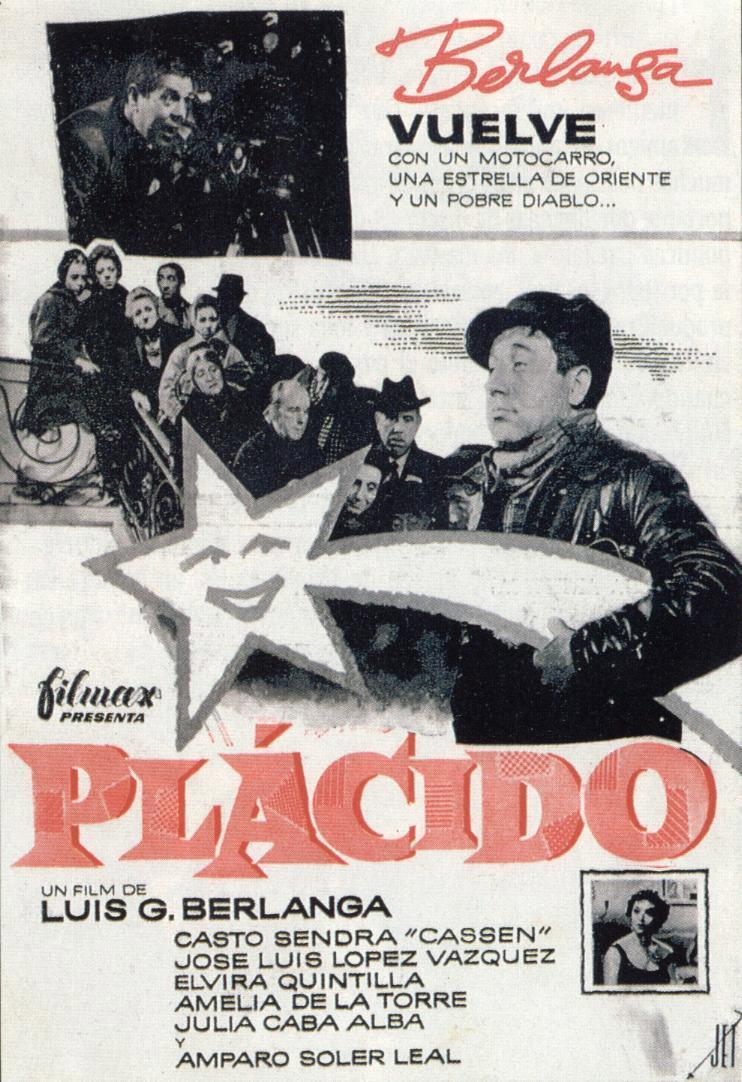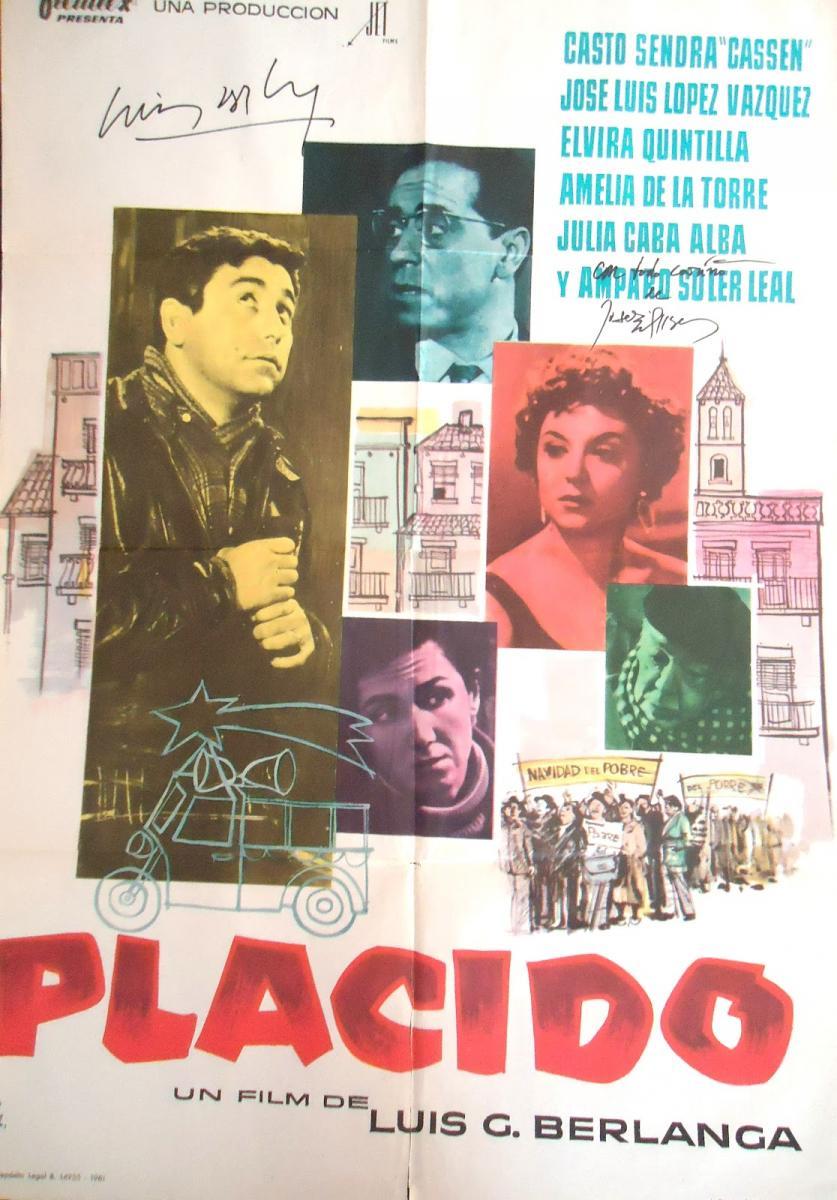 ENGLISH
In a small spanish town, a group of old ladies decide to celebrate Christmas Eve with a "Sit a poor man at your table" dinner: each wealthy household of the town will have a homeless person dining with them that night. The celebrations also include a parade, and in it we find Plácido, the humble owner of a three-wheeler, whose family is forced to live in a public lavatory because of the lack of money to pay the rent, and who has to pay the second bill of his vehicle before midnight or else he will lose it.
This is an effective satire directed by Luis Berlanga that pans charity from the head -- the cold, calculated or unthinking kind -- as versus charity from the heart. The focus is on Placido (Casto Sendra-Cassen), a truckdriver who has little money and so making regular payments on his truck can be difficult, so much so that he gets behind and is in danger of having his vehicle repossessed. Meanwhile, he gets involved in a local, annual charity drive that opens up his eyes to the problems and foibles of other impoverished people. After those experiences, Placido has a different attitude toward his monthly payments.~ Eleanor Mannikka, All Movie Guide
ESPAÑOL
Título original
Plácido
Año
1961
Duración
85 min.
País
España
Dirección
Luis García Berlanga
Guion
Rafael Azcona, Luis García Berlanga, José Luis Colina, José Luis Font
Música
Miguel Asins Arbó
Fotografía
Francisco Sempere (B&W)
Reparto
Cassen, José Luis López Vázquez, Elvira Quintillá, Amelia de la Torre, Julia Caba Alba, Amparo Soler Leal, Manuel Alexandre, Mari Carmen Yepes, Agustín González, Luis Ciges, Antonio Ferrandis
Productora
Jet Films
Género
Comedia | Pobreza. Navidad. Sátira
Sinopsis
En una pequeña ciudad provinciana, a unas burguesas ociosas se les ocurre la idea de organizar una campaña navideña cuyo lema es: "Siente a un pobre a su mesa". Se trata de que los más necesitados compartan la cena de Nochebuena con familias acomodadas y disfruten del calor y el afecto que no tienen. Plácido ha sido contratado para participar con su motocarro en la cabalgata, pero surge un problema que le impide centrarse en su trabajo: ese mismo día vence la primera letra del vehículo, que es su único medio de vida. (FILMAFFINITY)
Premios
1961: Nominada al Oscar: Mejor película de habla no inglesa
1962: Festival de Cannes: Nominada a la Palma de Oro (mejor película)
Críticas
"La gran obra maestra de Berlanga estalla no sólo como impecable comedia costumbrista, sino también como un devastador retrato social"
Miguel Ángel Palomo: Diario El País
"Ácida, crítica y con el sarcasmo como banderín de enganche. De paso, Berlanga juega al cine con sus eternos y magníficos planos-secuencia"
Cinemanía
"Una de las mejores maneras de enviar mensajes subversivos en una cultura reprimida ha sido siempre disfrazándolos de humor (...) Quita el humor y encontrarás una crítica rigurosa a la cultura española bajo el mandato de Franco"
Stephen Holden: The New York Times
The first of Luis García Berlanga's collaborations with Rafael Azcona, Plácido fiercely skewers the false charity of the well-to-do who are wilfully ignorant to the genuine need around them. Set over the course of Christmas Eve, the film follows the 'sit a poor man at your table' charity initiative - the townsfolk can bid in a charity auction to have a second-rank starlet attend their Christmas meal, but are expected to also take a homeless or infirm person as well. In parallel, the eponymous Plácido (Casto Sendra, better known as Cassen) - working as a gopher for the organising body - tries to find the opportunity to pay the overdue instalment on his new three-wheeled truck, the money required being the exact amount that he is owed by the charity for his work.
Not making the payment could lead to the truck being repossessed, effectively curtailing Plácido's ability to earn a living - his family are living in straightened circumstances, spending most of the day in the public toilets where his wife (Elvira Quintillá) works as a custodian. Plácido tries leaving his invalid brother Julián (Manuel Alexandre) at the bank as surety but to no avail, and the matter becomes more complicated as the day progresses (he's informed that he has to pay costs on top of the bill, and then offices start closing early) - he spends most of the film trying to get the charity organiser, Quintanilla (José Luis López Vázquez - on cracking form), to intercede on his behalf with the notary (José Orjas) with whom the debt now rests.
Quintanilla has other things on his mind, namely making sure that the charity campaign goes smoothly - while the well-to-do strive to keep up appearances, Plácido's needs are ignored. However it becomes apparent - in the course of numerous marital squabbles overheard by the camera - that true charity is far from people's minds. They have agreed to sit a poor man at their table because it is what is expected of them or to save face in front of their neighbours, or because they've been pressured by their boss - couples argue over which homeless or infirm person to take ("That one looks nicer"), and then fall out when the poor people prove to be less pliant than imagined.
The hysteria builds when one of the poor men (Antonio Gandía) suffers a heart attack during the meal, and the family hosting him (Julia Delgado Caro, José Franco, Agustín González) want him out of their home before he dies (while also fretting about lying him down on decent linen for the sake of appearances). Quintanilla and the rest of the organising committee (headed by Amelia de la Torre) turn up en masse - some 14 people crowding the apartment even before Plácido and his entire family are added to the mix (he is still trying to get Quintanilla to phone the notary and will be inveigled to move the man) - to discuss the best way of proceeding. When they discover than the man is currently 'living in sin' with another beneficiary of the charity (Julia Caba Alba), they resolve to marry them immediately so that he doesn't die in a sinful state - the comedy mixes the satirical and the ridiculous.
Berlanga excels at the chaos of everyday life - the messiness of human interactions and the way in which lives randomly interconnect - overlapping conversations as the camera leads us through crowded sets to dip in and out of different narrative strands. The script is scathing in its depiction of petty hypocrisies but also exceptionally funny. The ensemble is key - maybe a dozen characters have significant scenes in this film - and many of the actors here not only worked with Berlanga multiple times but also became stars and stalwarts of Spanish film comedy (most notably López Vázquez).
https://www.eyeforfilm.co.uk/review/placido-1961-film-review-by-rebecca-naughten
Mr. Berlanga's 1961 film, "Placido," which begins a six-night engagement this evening, is a chattery comedy about an impoverished man who spends the day before Christmas trying to avoid foreclosure on his motorbike. The character's frantic dealings with bankers and lawyers are set against the film's satirical canvas of a provincial town putting on a showy Christmas campaign called "Seat a Poor Man at Your Table." With its harshly funny portrait of the penny-pinching gentry, of greedy nuns and aggressive salespeople pushing pressure cookers as miraculous kitchen tools, the film offers a scabrously mocking portrait of officialdom putting on a display that is as grotesque as it is hypocritical.
https://www.nytimes.com/1994/10/21/movies/critic-s-choice-film-subversive-intentions-behind-the-humor.html
Como es habitual en la filmografía berlanguiana, la historia pone en evidencia el fariseísmo y bajeza moral de la burguesía en una España gobernada por timoratos valores cristianos, que ocultan opacos y sombríos intereses, vinculados al egoísmo, a las convenciones sociales y a las espurias inclinaciones de los llamados respetables. La campaña emprendida por ciertas honorables damas católicas, conocida como "siente a un pobre a su mesa", sirve de inspiración al cineasta para generar un argumento donde la realidad deviene en un conjunto de desatinados despropósitos que desembocan inevitablemente en el absurdo.
http://www.encadenados.org/rdc/rashomon/107-no-77-infeliz-navidad/3130-placido-1961-de-luis-go-berlanga
De gran repercusión internacional en su momento y una de las mejores comedias de su director, el film estuvo nominado al Óscar en 1961 a la mejor película de habla no inglesa, finalmente derrotada por Como en un espejo (1961), de Ingmar Bergman.
.....
Cuando comenzó el rodaje de Plácido ya había acumulado varios guiones desestimados por la censura y volvieron a brotar los enfrentamientos que le obligaron a cambiar el título original, el cual pretendía ser Siente a un pobre a su mesa, ya que ante los ojos del comité el título se prestaba a una doble lectura. También experimentó problemas diplomáticos con la presentación de ¡Bienvenido, Míster Marshall! (Luis García Berlanga, 1953) en el Festival de Cannes de 1953 cuando el actor Edward G. Robinson intentó prohibirla por considerarla injuriosa para los norteamericanos hasta el punto de llevar una protesta a través de la embajada.
http://www.madrimasd.org/blogs/imagen_cine_comunicacion_audiovisual/2015/05/19/126490
"Realmente, lo que yo hago en mis películas es dirigir el tráfico"
Luis García Berlanga
Siendo una visión modesta y desmitificadora de su trabajo como director, las palabras de Luis García Berlanga no dejan de ser elocuentes en cuanto a su manera de concebir la puesta en escena. Prescindiendo de cualquier artificio técnico, el sello creativo de Berlanga se reconoce en su predilección por el plano secuencia habitado por una multitud de personajes que entran, salen o se mueven por el espacio cinematográfico con una naturalidad que disfraza de sencillez lo que es en realidad un absoluto dominio del tiempo y espacio cinematográficos. Y si esto es evidente en toda su filmografía, es en Plácido donde este dominio alcanza sus máximas cotas de perfección.
https://www.cinemaesencial.com/peliculas/plácido