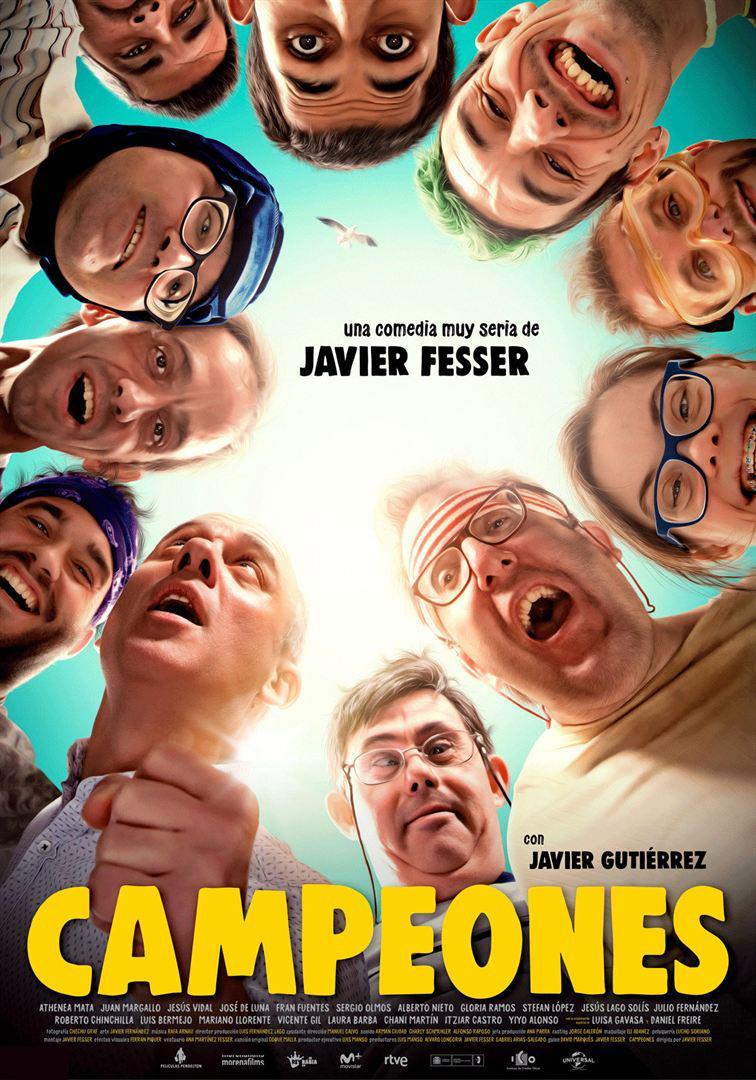 ENGLISH
Champions
A basketball coach is sentenced to community service, forced to work with a team of mentally disabled players.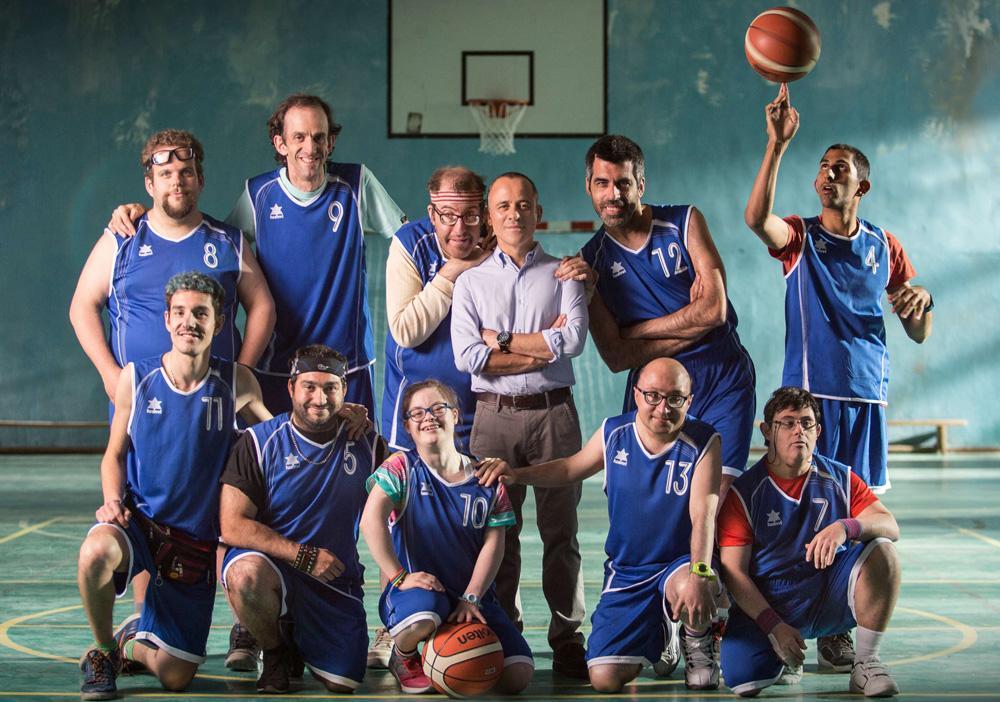 ESPAÑOL
Título original
Campeones
Año
2018
Duración
124 min.
País
España
Dirección
Javier Fesser
Guion
David Marqués, Javier Fesser
Música
Rafael Arnau
Fotografía
Chechu Graf
Reparto
Javier Gutiérrez, Juan Margallo, Luisa Gavasa, Jesús Vidal, Daniel Freire, Athenea Mata, Roberto Chinchilla, Alberto Nieto Ferrández, Gloria Ramos, Itziar Castro
Productora
Morena Films / Movistar+ / Películas Pendleton
Género
Comedia. Drama | Comedia dramática. Discapacidad. Baloncesto. Deporte
Sinopsis
Marco, un entrenador profesional de baloncesto, se encuentra un día, en medio de una crisis personal, entrenando a un equipo compuesto por personas con discapacidad intelectual. Lo que comienza como un problema se acaba convirtiendo en una lección de vida. (FILMAFFINITY)
Premios
2018: Premios Goya: 11 nominaciones, incluyendo Mejor película y director
2018: Premios Feroz: 4 nominaciones, incluyendo Mejor película (Comedia)
2018: Premios Forqué: mejor película y premio al cine en educación en valores
Críticas
"Es muy divertida, a ratos divertidísima, y retrata a unos personajes que destilan humanidad, dignidad, bonhomía y generosidad (...) una de las propuestas españolas más recomendables de los últimos meses (…) Puntuación: ★★★ (sobre 5)"
Alberto Luchini: Diario El Mundo
"[La] veo y escucho con cierto agrado (....) ha sorteado otros peligros como el ternurismo (...) Es una película extraña. En el buen sentido."
Carlos Boyero: Diario El País
"Si el riesgo y la diversión son dos de las notas esenciales del cine de Fesser, en «Campeones» las reúne de un modo asombroso (...) [es] espectacular la capacidad de Fesser, o su película, de conectar todo con todo (…) Puntuación: ★★★ (sobre 5)"
Oti Rodríguez Marchante: Diario ABC
"Una triunfal oda a la diferencia (...) es un salto sin red dentro de los límites del humor al que resulta casi imposible no sucumbir, a pesar de que seamos conscientes de la manipulación emocional (…) Puntuación: ★★★ (sobre 5)"
Beatriz Martínez: Diario El Periódico
"Historia sensible, pero complicada (...) Realista y emotivo retrato de nuestra discapacidad social. (…) Puntuación: ★★★ (sobre 5)"
Irene Crespo: Cinemanía
"La mejor de su filmografía [de Fesser] (...) muy divertida y recomendable para ver con chavales. (…) Puntuación: ★★★★ (sobre 5)"
Juan Pando: Fotogramas
"Es tan previsible como finalmente irresistible, aunque sus 124 minutos luzcan exagerados. De esas películas familiares que apuntan al corazón y consiguen que alguna lágrima inevitablemente corra por nuestras mejillas. (...) Puntuación: ★★★ (sobre 5)"
Diego Batlle: OtrosCines.com
Trailer (English subs)
Spain's biggest national box office hit of the year, "Campeones" (Champions), has been selected by the Spain's Academy of Motion Pictures Arts and Sciences as the country's submission for a foreign-language Academy Award.
Grossing €18.5 million ($$21.4 million) in Spain for Universal Pictures Intl. Spain, "Campeones" beat out two other contenders in a submission shortlist: Ashgar Farhadi's Cannes Festival opening film "Everybody Knows," starring Javier Bardem and Penelope Cruz, which was shot in Spain and produced out of Spain, like "Champions," by Spain's Morena Films; and Jon Garaño and Aitor Arregi "Handía," a flagship production of the building Basque cinema which won a Special Jury Prize at last September's San Sebastian festival and then 10 Goya Academy Awards this January.
On paper, "Campeones" could have disappeared without trace at the Spanish box office, taking a difficult subject – intellectual discapacity – and rolling it into a drama-comedy about a top-notch assistant coach in Spain's top ACB basketball league who has reached the end of his emotional tether. Brawling with the head coach, getting drunk, crashing his car, he ends up in court, where he is sentenced to social work: Teaching a team with varying intelectual disabilities to play basketball. The sentence proves his salvation.
What "Campeones" has going for it, however, is lead Javier Gutiérrez, maybe Spain's biggest current marquee draw after turns in "Marshland" and Movistar + hit series "Spanish Shame" and a 2018 Spanish Academy Goya for "The Motive," and Fesser's career-long knack for choral comedy, incorrigible individuals, and movies which create large empathy with supposed social outsiders, generating often wide audience appeal: His "Mortadelo & Filemon: The Big Adventure," for instance, garnered €22.9 million ($25.0 million) in Spain in 2003.
Played by actors with mental disabilities, the basketball team members come across as far more emotionally balanced and candid and far-less bloody-minded than the supposedly "normal" figures in the film.
"Campeones" has generated a spin-off – the doc-feature, 'Ni distintos ni diferentes: Campeones,' from Morena Films producer partner Alvaro Longoria, also a Goya-prized documentary filmmaker ("Sons of the Clouds," "The Propaganda Game"), which will world premiere at this month's San Sebastian Film Festival.
Produced by Morena Films ("Altamira," "Cell 211," "Comandante"), Luis Manso at Fesser's Películas Pendleton, and Telefonica pay TV division Movistar + ("Tadeo Jones 2," "Dragonkeeper") and handled by Latido Films for international distribution, "Champions" has also sold strongly, including to prestige partners such as Jean Labadie's Le Pacte for France. Longoria, a producer on "Champions," said before leaving for Toronto Festival today that, if "Champions" were chosen as Spain's Oscar entry this year, he hoped its submission would help snag a sale to the U.S., where rights remain open.
https://variety.com/2018/film/festivals/javier-fessers-champions-spain-oscar-submission-1202929366/