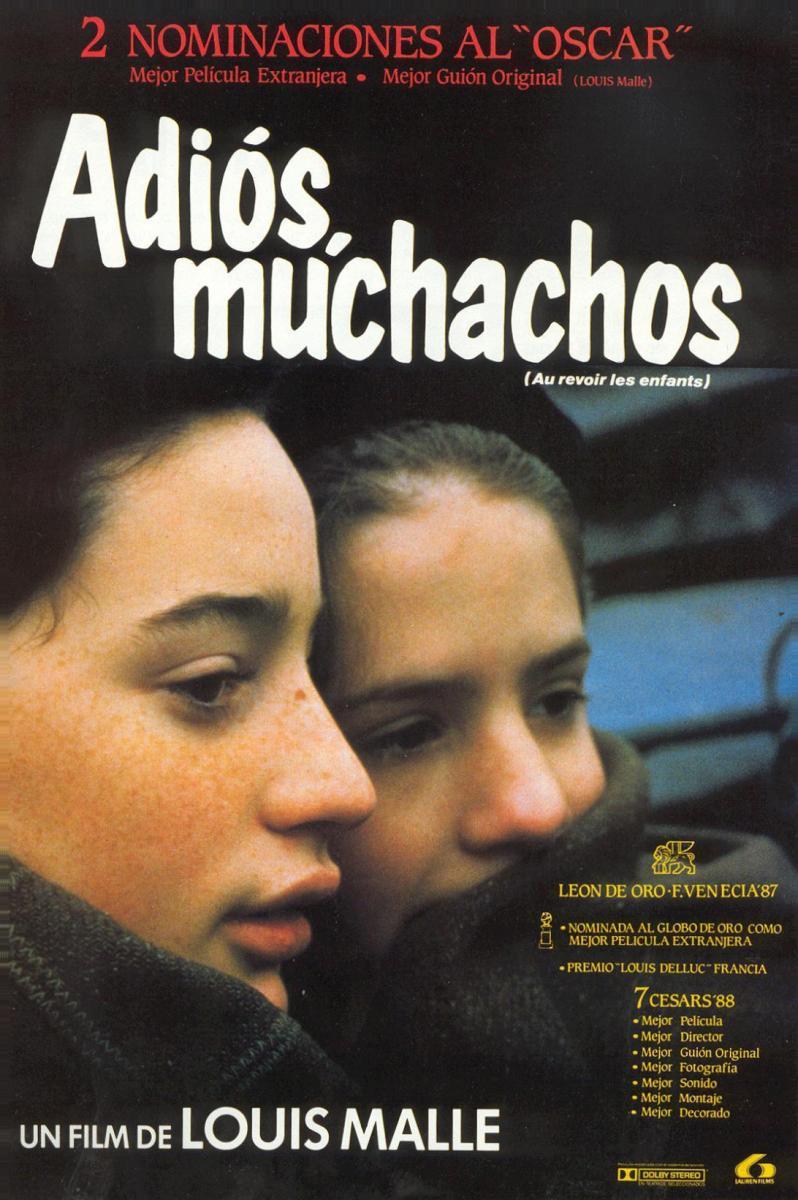 Original title:
Au revoir les enfants
English title:
Goodbye, Children
Russian title:
До свидания, дети
West Germany:
Auf Wiedersehen, Kinder
Spain:
Adiós, muchachos
Latin America:
Adiós a los niños
Brazil:
Adeus, Meninos
Portugal:
Adeus, Rapazes
Italy:
Arrivederci ragazzi
Year 1987
Running time 104 min.
Countries: France , West Germany, Italy
Filming Locations:
Seine-et-Marne, France
Director
Louis Malle
Screenwriter Louis Malle
Music Franz Schubert
Cinematography Renato Berta
Cast
Gaspard Manesse, Raphaël Fetjo, Francine Racette, Stanislas Carré de Malberg, Philippe Morier-Genoud, François Berléand, François Négret, Peter Fitz, Pascal Rivet, Bendit Henriet, Xavier Legrand, Irène Jacob
FRENCH
1943, Julien est pensionnaire dans un collège catholique. Il découvre Jean nouveau venu, fier et secret. Julien et Jean se prennent peu a peu en amitié. Cependant ce lien ne pourra jamais s'épanouir. La Gestapo debarque un jour au college et arrête le Pere Jean et les trois enfants juifs qu'il avait cachés parmi ses petits catholiques.
ENGLISH
During the winter of 1943, Julien Quentin, a pampered mother's boy who acts tough to the students at the school but is actually a soft kid who wets the bed, leaves his home in Paris at the end of Christmas break. Saddened to be returning to the tediousness of boarding school, Julien's classes seem uneventful until Père Jean, the headmaster, introduces three new pupils. One of them, Jean Bonnet, is the same age as Julien. Julien at first despises Bonnet, a standoffish intellectual who is being picked on by the rest of the class.
SPANISH
Invierno de 1943. Durante la ocupación alemana de Francia, en un internado católico para chicos, Julián, un muchacho de trece años, queda impresionado por la personalidad de Bonnet, un nuevo compañero que ingresa en el colegio después de iniciado el curso.
"Sutil, hermosa, compleja, dura, tierna y honesta"
Carlos Boyero: Diario El Mundo
"Una representación inigualable de la infancia, la memoria y la guerra (...) Presenta una maravillosa naturalidad en las actuaciones y la dirección (…) Puntuación: ★★★★★ (sobre 5)"
Peter Bradshaw: The Guardian
Peter Bradshaw recommends Louis Malle's 1987 autobiographical film, which takes place in a boys' boarding school towards the end of the second world war, explores French guilt surrounding antisemitism and the events that took place during the Holocaust.
"An unrivalled depiction of childhood, memory and war (...) There is a miraculous, unforced ease and naturalness in the acting and direction (…) Rating: ★★★★★ (out of 5)"
Peter Bradshaw The Guardian
"Masterful (...) A humane, often funny, coming-of-age story (...) A strong story worth savouring on the big screen (…) Rating: ★★★★ (out of 5)"
Donald Clarke Irish Times
"A moving portrait (...) Malle has written and directed with the compassion of an adult and the simplicity of a child (...) Malle never oversimplifies"
Rita Kempley The Washington Post
"Bonita película, nada partidista y que refleja una historia sincera y muy emotiva"
Fernando Morales: Diario El País
"Lo mejor de la película es el cambio en el equilibrio del poder (...) Con buena fotografía y dirigida con una elegancia sutil (…) Puntuación: ★★★★ (sobre 5)"
Tom Huddleston: Time Out
Awards
1987: 2 Nominations for Oscar: Best Foreign Language Picture, Original Screenplay
1987: Golden Globes: Nominated Best Foreign Language Film
1987: Independent Spirit Awards: Nominated for Best Foreign Film
1987: Venice Film Festival: Golden Lion - Best Movie
1987: Cesar Awards: 7 Awards including Best Picture. 9 Nominations
1987: David di Donatello Awards: 3 awards, including Best Foreign Film
1988: BAFTA Awards: Best Director. 4 nominations
1988: European Film Awards: Best Screenplay. 3 Nominations
1988: New York Film Critics Circle: Nominated for Best Foreign Film
1988: Chicago Film Critics Awards: Best Foreign Language Film
Audio: French, some words in German, English
Subtitles: English, Spanish, Portuguese, Brazilian Portuguese, Arabic (muxed)
Resolution: 1792x1080 pixels
Weight: 7.32 GB