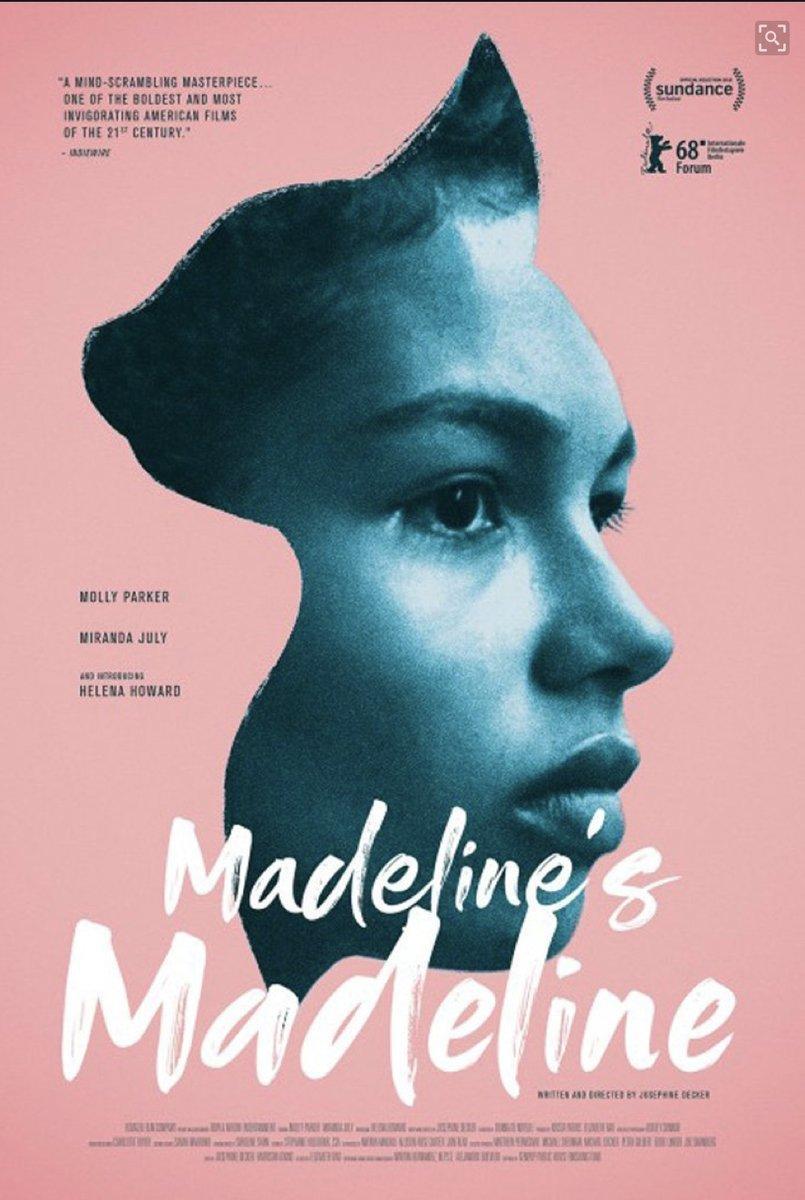 Original title Madeline's Madeline
Year 2018
Running time 93 min.
Country United States
Director Josephine Decker
Screenwriter Josephine Decker, Alexandra Tatarsky, Donna di Novelli (Story: Sharon Mashihi, Gail Segal)

Cast
Molly Parker, Helena Howard, Miranda July, Julee Cerda, Dana Eskelson, Curtiss Cook, Ivan Martin, Reynaldo Piniella, Emily Decker, Felipe Bonilla, Sunita Mani, Sophie Traub, Blake Baumgartner, Myra Lucretia Taylor, Mike Hodge, Lisa Tharps, Suzette Gunn, Okwui Okpokwasili
ENGLISH
A theater director's latest project takes on a life of its own when her young star takes her performance too seriously.

2018: Gotham Awards: Nominated for Best Film & Breakthrough Actor (Howard)Awards
2018: Independent Spirit Awards: Nom. for Best Cinematography & Actress (Howard)
Critics' reviews
"Featuring a star-making turn from newcomer Helena Howard (...) The narrative might be shattered, but the film's slipstream of emotion is powerful and inescapable."
Bilge Ebiri: Village Voice
"A mind-scrambling masterpiece (...) Miranda July and breakout star Helena Howard anchor one of the freshest and most exciting films of the 21st century."
David Ehrlich: IndieWire
"[It is shot] in jagged angles and torn edges, with physical energy and piercing clarity (...) The central triangle of women in 'Madeline's Madeline' offers stringent, fierce, yet delicately detailed performances"
Richard Brody: The New Yorker
"'Madeline's Madeline' is one of those movies that is guaranteed to surprise you in one way or the other. (...) It's beautifully unwieldy"
Nick Allen: rogerebert.com
"What makes the film transcendent is how she [Decker] uses the art of cinema to convey it and Howard's phenomenal performance (...) A truly exquisite cinematic experience"
Gregory Ellwood: The Playlist
"Visually and sonically experimental… a distinctive world (...) Entrancing and wanting (...) The story eventually throws dramatic coherence out the window"
Anthony Kaufman: Screendaily